The Old Mill is one of Pigeon Forge's best gems. An historic treasure, The Old Mill is one of the most popular attractions in the Smoky Mountains. Listed on the National Register of Historical Places, this authentic working mill is over 170 years old. Amateur and professional photographers from all over the world capture the Mill's rustic charm and simple beauty.

The Old Mill area has great historical value. In its earliest days, it was the heart of the community, serving as a gathering spot for villagers. During the Civil War, looms were set up to make woven articles for soldiers. In the early 1800s the area around the Old Mill was first settled by pioneers. Because of its popularity with pigeons, the river was named Little Pigeon, and the name was given to the community as well. In 1830, William Love dammed up the Little Pigeon River and began construction of the first building of the Old Mill. He used 40 foot long, 14" by 14" yellow poplar logs which are clearly visible even today. Huge river rocks serve as pillars to support the structure.

One can experience the richness of Tennessee history in the same building where, for many years, farmers dropped off wagons of kernel corn and picked up their bags of flour and grits, Take a guided tour and see how the Old Mill grinds corn into meal using the same machinery that was considered antique a hundred years ago.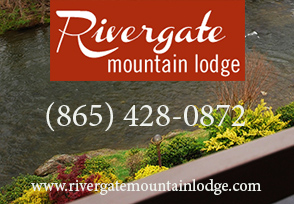 Today, the Old Mill stands in the middle of modern-day Pigeon Forge, serving as a reminder of days past, when this was but a sleepy mountain village.

The Old Mill General Store features over 28 different kinds of mill products and many other unique food and gift items, including souvenirs, handmade decorations, locally-made jams and jellies, sorghum, country ham and bacon, and much more. Be sure to sample the fresh homemade fudge made next door at the Old Mill Restaurant.

The Old Mill Restaurant is noted for its southern cooking. Specialties include signature corn chowder, pot roast and gravy, homemade chicken and dumplings, southern fried chicken, and pecan pie. Biscuits made from scratch, homemade banana nut muffins, and stone ground grits are just a few items featuring products ground at the mill next door. Open daily for breakfast, lunch, and dinner.

Shops at Old Mill Square offer handmade crafts and other shopping items. Pigeon River Pottery features handmade pottery, made on-site by talented artists, wood crafts, clay sculpture, jewelry, hand-carved walking sticks, weaving and various other unique handmade items. Next door is a newly-renovated potting shed offering many creative items for the garden. At the Old Mill Candy Kitchen homemade chocolates, salt-water taffy, peanut brittle and other goodies are made on-site daily. The famous homemade fudge is known far and wide. Frozen treats are made on-site at the Old Mill Creamery. The Old Mill Gift & Basket Co. offers a wide variety of other local and regional food items such as BBQ sauces, relishes, jams & jellies, as well as a unique selection of gifts, including kitchenware and bath & body. At the Old Mill Toy Bin you will find unique specialty toys and games for that special child in your life.
More Photos

Home | Hotels | Cabins | Condos | Resorts | B&Bs | Visitor Info | Events | Contact
Vacation Packages | Restaurants | Attractions | Theatres | Shopping | Weddings

© 1997-2020 by Image Builders. All rights reserved.